Dec 2, 2019 12:30 PM Central
Melissa Edens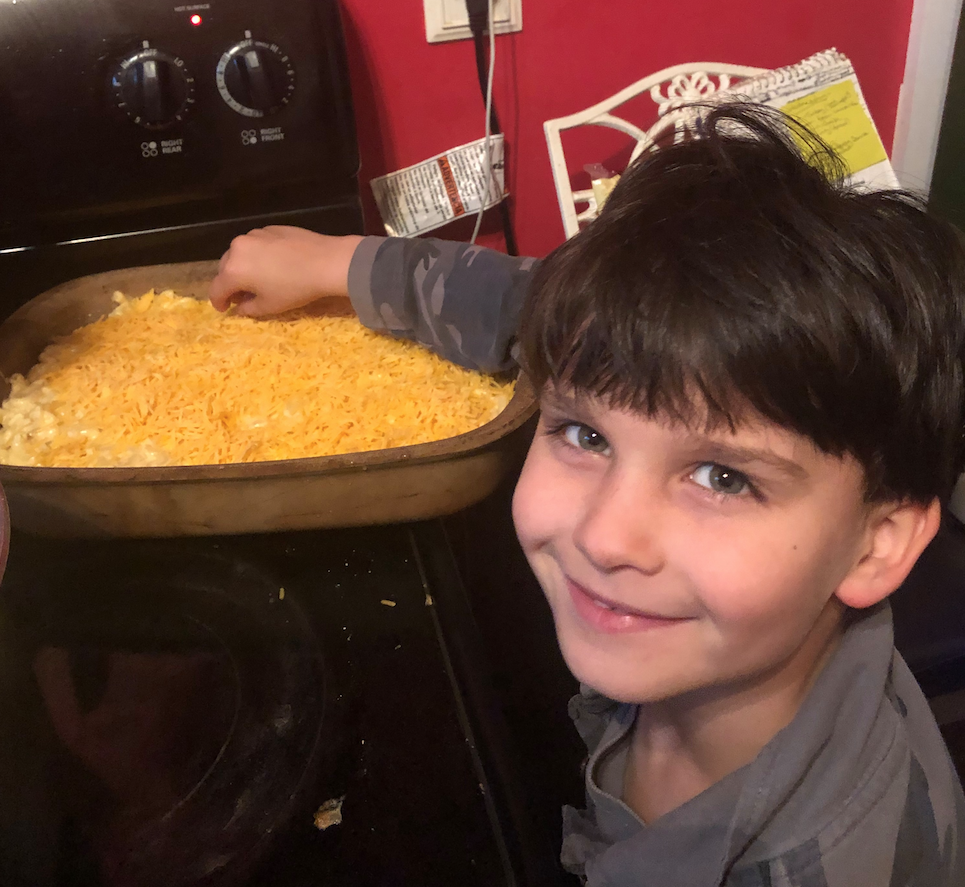 At long last! I am sitting down to type this up for you all. This is not a Young Living/Essential Oil/Crunchy living thing - because there is NO way to make Mac n cheese, in all it's gooey goodness, healthy. So just enjoy this for what it is, and know that you WILL get rave reviews for taking it to your next holiday get together or picnic in the summer. BONUS - I'll tell you how to do it in both the least-dishes-to-wash method, as well as the get-it-done-fast method.
Bonus #2: The cheese sauce is great on OTHER vegetables too and would make a phenomenal broccoli-n-cheese soup!

I wanna give a hat-tip here - I started with this mac n cheese recipe but then... I made it even better. So this is truly the best Mac-N-Cheese recipe out there. Go head, do a Mac-N-Cheese taste off with both recipes side-by-side. Come back here and tell me who the winner is.
Pre-Cook Tips to be aware of

Cook your pasta to slightly less than al dente. So if the box says "9-11 minutes", cook it for 8. The reason is that this is baked mac and cheese so the pasta will continue to cook in the homemade cheese sauce in the oven. You don't want soggy macaroni (I've done it before - it's gross, like wet oatmeal.)

I used elbow pasta but really, any tubular past will work.

This mac and cheese recipe starts with a roux. The roux is super important to getting the creamiest cheese sauce of your life. Here is what you need to look for:

The roux (equal parts butter and flour) is whisked together until bubbly and golden.

Whisk in cold milk – not warm – to prevent the flour from clumping.

Cook the roux until you see bubbles on the surface and then continue cooking for an additional 2 minutes before adding the cheese.
All About The Cheeeeeeeseeeee
Seriously? Mix. It. Up.
While block, shred-your-own is better, it is not a requirement for great mac.
I have used shred-mex, mozzerella, super-extra-sharp-cheddar, gouda, swiss, pepper-jack... allll the cheese! I am a huge cheese fan so the only one I have not found success with is a vegan shred option. Though I do now have a cashew-based sauce recipe to try soon.
How many people will this feed?
Okay, so I make enough to feed about 20 people at a time, of course. And we're talking big portions - like, 2 big 9x13 pans filled-to-overflowing stylekk. I have cut this recipe down to a more manageable 9x13 pan. If you want to do like I do and make a bacon and a non-bacon version, you'll want to split this recipe into two 8x8's or something similar. Then you'll be feeding closer to a "normal" family side (but who defines "normal" anyway??)
Okay, all that said, let's get to it without further chatter.
Ingredients
16 oz (1 lb) elbow macaroni

1 onion, finely diced

4 cloves garlic, diced

9 Tbsp butter

1/2 c. all-purpose flour

5 c. whole milk

1 ½ c. heavy whipping cream

6 c. one kind of shredded cheese (keep it simple - start with cheddar)

3 c. another kind shredded cheese (KISS - go with mozzarella)

¼ c. dry white wine (don't go with "cooking wine". If you wouldn't drink it in your glass don't put it in your mac. This is optional and can be left out, but it gives it a really nice tang if you include it.)

1 Tbsp Cumin

½ Tsp. smoked paprika (regular if you can't find smoked)

Salt and Pepper to taste

½ lb. bacon (optional)

1 ½ c. panko bread crumbs (optional)

4 Tbsp. butter, melted (if using panko)

½ c. Parmesan cheese, shredded (if using panko)

Another Yummy Alternate topping - those crunchy fried onions you normally find on top of green bean

casserole. I make those homemade also but won't include that recipe here, to avoid making things any longer than they already are - but you can totally do it too, and they are SO tasty!!
Instructions - going to put the

"fewer dishes" instructions in purple

, and the

"less time" option in green.
Preheat oven to 350F. Lightly grease your baking dish(es) and set aside. Have your ingredients handy to one side to KISS.
In a large stock pot, cook your pasta to one minute less than the minimum time listed on the package instructions. Remove from heat, drain, and rinse over with hot water to keep it from sticking. Set aside while making cheese sauce.
Set aside 1 ½ c. of each of your cheeses into a bowl. Do not add this cheese to your cheese sauce. You'll be layering it into your noodles in a later step.
If adding bacon: Melt 2 Tbsp butter in your baking dish. Lay a single layer of uncooked bacon to the pan and put in the oven while you make the cheese sauce and noodles.

In the same pot you cooked the noodles in,

(or in a separate pot while cooking your noodles)

melt the butter. Add in diced onion and garlic. Saute until golden brown.
To make the roux: Whisk in the flour, and continue whisking for about 1 minute until golden colored and bubbly. Reduce heat to low.
Gradually whisk in the milk and heavy cream until smooth. Continue to whisk (to avoid scorching your milk) for about 2 minutes after you see bubbles appear on the surface. Whisk in salt, pepper, cumin, and paprika.
Add two cups of shredded cheese at a time to the sauce. Whisk each two cups until smooth before adding the next two. By the time you're done, you should have added 6 c. cheese, and your sauce should be creamy, thick, and smooth.
Whisk in your dry white wine, if using. Using a tasting spoon, taste your marvelous, gooey yumminess to make sure the spices are to your liking, adjust as needed.

This is the sauce that would taste SO good in broccoli-cheese soup, as a veggie dip, or in other uses. If you want it for these ideas, stop here. It is also a legitimate cheese-only soup by itself at this point.
If your pasta is a little sticky, spray it off with HOT water to separate the noodles. The put your drained pasta in the pot with your cheese sauce, and thoroughly coat the noodles. You should have a LOT of sauce-per-noodle ratio going here. Don't worry. You want it that way.
If using bacon: Go check it out. Is it cooked slightly less than you want it? Remove it from your baking dish but do NOT wash the dish out. Leave the yummy flavor in there for your noodles to soak up! Soak a little of the grease off the bacon and cut it up into small pieces.
Pour half of your cheese-covered noodles into your prepared pan, layer with 1/2 of your bacon (if using), and 1 1/2 c. of the reserved shredded cheese. Cover this layer with the other half of your cheesy noodles-in-sauce mix. Top with more bacon (if using), and the final 1 1/2 c. reserved shredded cheese.

If you want a cheesy bread-crumb topping: Mix your panko bread crumbs with parmesan cheese, melted butter, and a little more paprika. Sprinkle this over the top of your prepared mac-sagna.

Toss this bad boy in the oven and bake for about 30 minutes until the top cheese is slightly browned like a pizza.
Take it out, serve it up. Receive your applause (and the standing ovation that goes with it) like an Actor at the Oscars, like a BOSS.