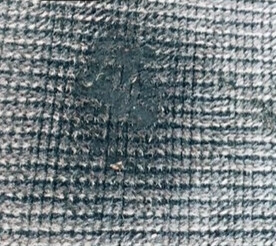 I was cleaning out my van yesterday - no small undertaking with a 15 passenger van - and came across something gross and black stuck to one of my rear van seats. Was it gum? Was it long-ago moistened cotton candy? Whatever it was - it could not stay on my upholstery!
To say I was unhappy with our children ... would be a huge understatement. However, I have been working with some different Young Living products to find alternative uses for them. The first thing I did was spray it down with Thieves Household Cleaner, let it sit for about 20-30 seconds, and dabbed at it with a rag.
<< spraying THHC
Dabbing THHC >>
After that, I put some Thieves Fruit & Veggie Wash onto the remaining gum, and used a Pampered Chef scraper to get the rest out. The end result of this (and another spot of ... ???? that I found) was clean, beautiful seats!
What product should we hack next? Take a look at the live video (and maybe like, share, or subscribe to help me share the love) if you're more of a visual learner.