Dec 5, 2018 12:33 PM Central
Melissa Edens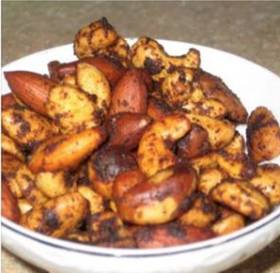 Okay, I hesitate to write this recipe out because so many of my gift recipients get these for Christmas... I don't want them to feel like they're getting the short end of the stick because of how easy they are to make. Don't tell, okay?
These spiced nuts are gift recipient favorites for those who like spicy foods. I have a "Sweet" recipe that I do for the people who can't stand the heat, but that is for another time. I get my gift tins for $.50 or less at garage sales, thrift stores or free if I just ask people for them (believe me, neighbors tend to be happy to give them away because they take up so much space but are too nice to throw away!)
This is one of our healthy snack recipes in the fall. Try some out - you can make them as spicy as you like!