Sep 1, 2021 12:25 PM Central
Melissa Edens
My birthday is in September! So I'll be doing some extra giveaways and gifts this month to say THANK YOU to our customers and members! I'll have diffusers, gift cards, booklets, jewelry, and more to send out!
💚💚💚💚💚💚💚💚💚
Take a look at the September Gifts with purchase below - they're fantastic!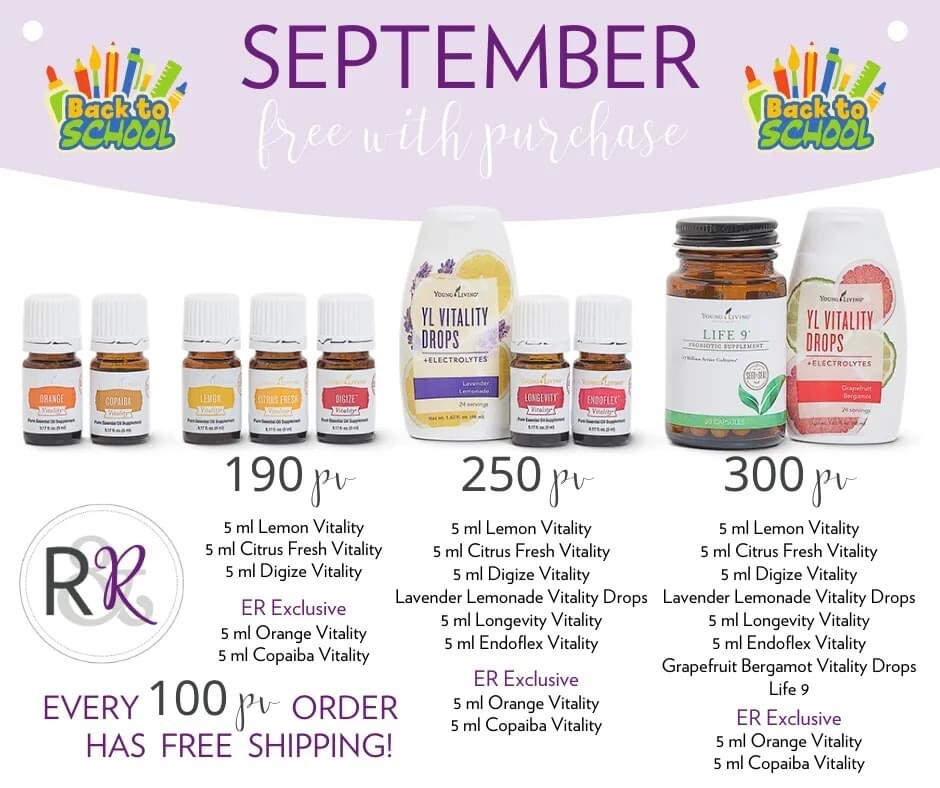 There are
TONS of great things you can do with this month's Gifts With Purchase!!
Let's take a look...

First up, a gift for our customers and members - no purchase needed! 🤩
Get the *free* LifeSteps app (and turn on notifications) to get ALL the info for the month! Plus all sorts of tips for using your essential oils and supplements. https://www.lifestepsapp.com/
Purchases of 100 PV always get a free shipping option 💌

🌱 Life 9: Probiotics your body will love ❤️ , but your gut will love the most! Skin issues? Try this! Most of us need to replenish and refresh our gut biome - Life 9 is gonna be your best friend.

🌱 Grapefruit Bergamot Vitality Drops: if you haven't tried these before, you're in for a treat! Spruce up your daily water w/a squirt of this yummy electrolyte addition!

🌱 Lavender Lemonade Vitality Drops: Another fave for flavoring water. Contains trace minerals & tastes delicious- just like what you get at the YL Farms!

🌱 EndoFlex Vitality: Add to a cup of tea or daily smoothie for a boost to your endocrine system.

🌱 Longevity Vitality: did you see the boho makeover challenge going around? Take this oil in a veggie cap daily, and use the Beauty Boost — watch your skin age backwards (put 5 drops a day in a veggie cap, top it off with carrier, and swallow - take a before pic bc you won't believe how great your skin looks!)

🌱 Lemon Vitality: Add a drop or two to your pancake 🥞 or waffle 🧇 batter for a fruity twist on breakfast. Also great in your daily water 💦

🌱 Citrus Fresh Vitality: delicious in fruit salads 🥗, marinades & salad dressings, as well as fruit 🍉 & veggie juices and smoothies!

🌱 DiGize Vitality: Take this when you travel 💺 or eat concession foods. 🤣 Add to your water or tea 🫖 to keep your digestion system happy & functioning properly.

🌱 Orange Vitality: Add to both sweet & savory drinks or dishes for a zesty burst of flavor! We use this in our ☕️ coffee grounds every morning along with cardamom and cinnamon . Trust me, you're gonna love it!

🌱 Copaiba Vitality: Add to your favorite protein drink or use it to flavor smoked salmon 🍣 or other smoked meats. Or rub on a teething ring

🌱🌱🌱🌱🌱
Share this post with your friends and tell us what you're most excited to get for FREE this month!
😅😅😅😅😅
Going to be up front and real - YL has changed a bit of the website lately, and I know you've had some questions. So I dove in 🏊‍♀️ And figured out the ins and outs of how to use it! And I'm here to help with the website or getting started!
🤝🤝🤝🤝🤝
I'm always only a text message or e-mail away!
- Melissa